給過去的朋友 To Former Friends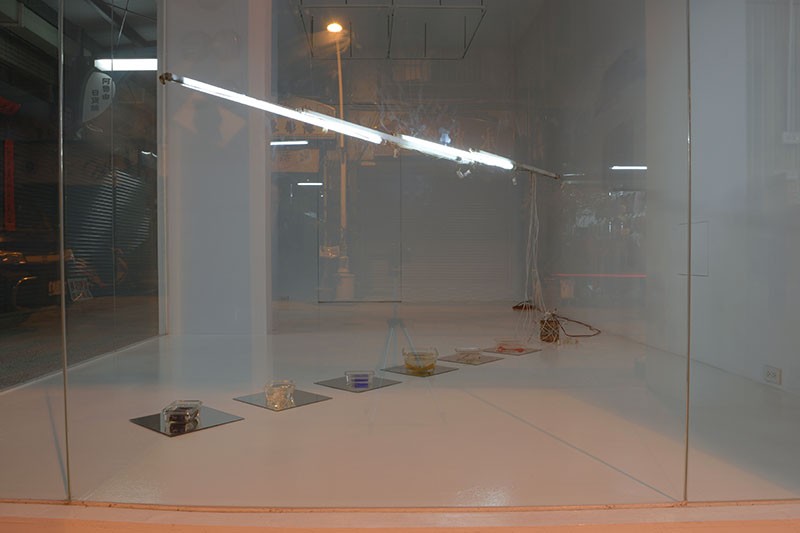 給過去的朋友 To Former Friends
2016
日光燈管、物件、果凍蠟 Fluorescent light tubes, Objects, Jelly wax
朋友,我把你們給我的東西放進蠟裡,希望可以保存得比我們的友誼更久一點。
我沒有忘記對你們的約定,這些燈管你們都看過,他們來自很久以前,比我們的相識或分離都還久。不知道是不是可以代表一些意義,他們是入夜後唯一的光明。這個時候只剩下他們,沒有別人了,灼刺的閃爍讓我想起最後那些時候尖銳的爭執與掙扎,而這些閃爍也就是燈管死去以前最後的樣子。
我偶爾看著這些閃爍,有時清楚,有時模糊。
My friends, I have kept everything you gave me in the wax to hope to conserve our friendships longer.
I haven't forgotten the promises I made to you. You saw these tubes, and they came from the past where before we met or separated. I don't know if they can be presented as some meanings. They are like the only brightness that exists at night, and there won't be anything that can stay in the way they do. The dazzling flickers remind me of the intense arguments and struggles that we had—these flickers represent the last moments of the dying tubes.
I sometimes look at the flickers, and they might appear either clearly or blurrily.